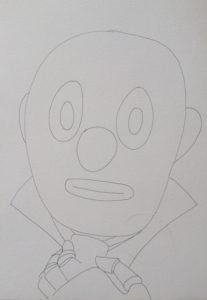 ARTIST'S STATEMENT
A Contemporary Animism

The genesis of this series of sculptures happened in white marble with aluminium and remains in progress to this day. It may be the only piece that is exactly the size it was envisioned to be. As for the rest of them, I realized each as a maquette for a much larger incarnation that stands in a public space, as if at once a talisman and an intruder into the psyche, animistic and solid as Egyptian granite. These works will be truly complete when they find their places under a shared and open sky.
I carved most of this series in the rainforest of the Southern Gulf Islands where the forest is dense with life and precious with detail. I always begin new works with a fairly clear sense of what the general silhouette and character of the figure will be. Then, this dominating composition is lovingly 'built,' safe cracked from beneath my conscious mind and pieced together into the whole. I strive to unlatch hidden combinations of these spatial meanings; I wrestle coherence from memories that are embedded in forms that can include the kitchen's hardware I excavated from the cave of my mother's cupboard, the protectors of tribal villages seen in art history books (or anywhere lucky enough to have a flourishing indigenous population) and the alluring forms of modern industry. The myths of doppelgangers, Pinocchio and robots, along with the heroic destruction of this present age, add to a corrupted thriving of strengths once trusted, now complicated beyond locales, crossbred with limitless space. The most challenging aspect is finding how and where the separate forms collide.
More meaning and dynamisms emerge as the complexities harmonize through careful searching and decisive cuts. It is a continual fascination to me that emotional content can reveal itself this way. Every sculpture leads me forward until its surface pulls tight and vibrates.
Painting has a different kind of urgency. The entire process of mind and body is built into a painting and comprises the evidence. No action is entirely erased; no moment is discarded. Time itself becomes locked into a painting, and painting must happen in that instant or never be what it is. Another moment is another painting. I happily leap from this cliff edge.
2017, Michael Maclean
---
Enquiries Welcome:
michael@michaelmaclean.com


Monuments of Love & Life
---
ARTISTIC HISTORY
1981-1983 METAL SMITH Apprenticeship; Ottawa. Studies and employment; Toronto, ON
1985 SCULPTOR The National Cathedral; Washington, DC
1986 SCULPTOR Carving marble reliefs and using first generation computer duplicating machines; Carrara, Italy
1988-2011 SCULPTOR Various Studios: Montreal, Vancouver, Surrey, Salt Spring Island
EDUCATION
1984 GEORGE BROWN COLLEGE Jewelry Arts
1985 SHERIDAN COLLEGE OF CRAFT Jewelry Arts
1988-90 CAPILANO UNIVERSITY Graduate of Fine Arts Program
1990-91 EMILY CARR UNIVERSITY Painting
1991 CONCORDIA UNIVERSITY Humanities
GROUP SHOWS
1990 GRUNT GALLERY, Vancouver, BC, Canada
1992 OKTAVIA GALLERY, Vancouver, BC, Canada
1995 ATELIER GALLERY, Vancouver, BC, Canada
2011 COASTAL EXPRESSIONS, Victoria, BC, Canada
2011 SOOKE FINE ARTS SHOW, Sooke, BC, Canada
2013 DOUGLAS UDELL GALLERY, Vancouver, BC, Canada
2013/2014/2015 SOOKE FINE ARTS SHOW, Sooke, BC, Canada
PUBLIC ART
Collisions in Time: ceramic, 100 sq ft; Collaboration with Judy McNaughton, Regina, SK
4 Narrative Benches: ceramic, 36 sq ft; Collaboration with Judy McNaughton, Regina, SK
6 Children's Murals: ceramic, 144 sq ft; Collaboration with Judy McNaughton, Regina, SK
Surrey Central Waterfall: cement, 30 ft; Collaboration with Glen Anderson
Surrey Skater (shortlisted): steel, glass, gold, 38 ft; Victoria Arena, $120,000
Self Considered (shortlisted): ceramic, bronze, 7 ft; Kelowna, $18,000
---